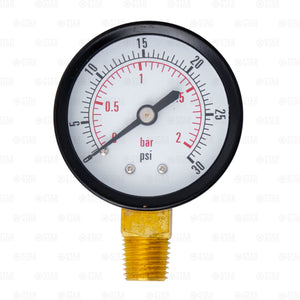 CO2 Regulator Replacement Gauge 30psi Right Hand CLOCKWISE 1/4" Male NPT Threads
0-30PSI Replacement Gauge for CO2 and other gas regulators.
2" Face
Fits most common Co2, Nitrogen, and other gas regulators
1/4" Male NPT Threads, standard right hand (clockwise) threads
0-30psi Pressure Range. Lower pressure range makes fine adjustments easier!
Durable metal housing
Includes nylon base washer for easy, airtight install!
---