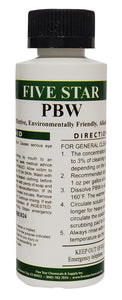 Five Star PBW Powdered Brewery Wash Non-Caustic Beer Equipment Cleanser 120g
Environmentally safe PBW is all you need to remove black hydrogen sulfide accumulations from inside copper kettles, columns, tubing, and condensers.
Also loosens or removes protein soil and staining, baked on carbon, and all manner other difficult caked on messes. PBW is great for brewing equipment like kettles and corny kegs as well.
Will not damage rubber gaskets, soft metals, or your skin. Five Star is an alkaline non-toxic cleaner, safer and greener than comparable caustics. Will not harm stainless steel or soft metal and plastics. An overnight soak of PBW loosens almost all carbon crusts and other accumulated baked on nasty crud. Perfect for used restaurant equipment!
---